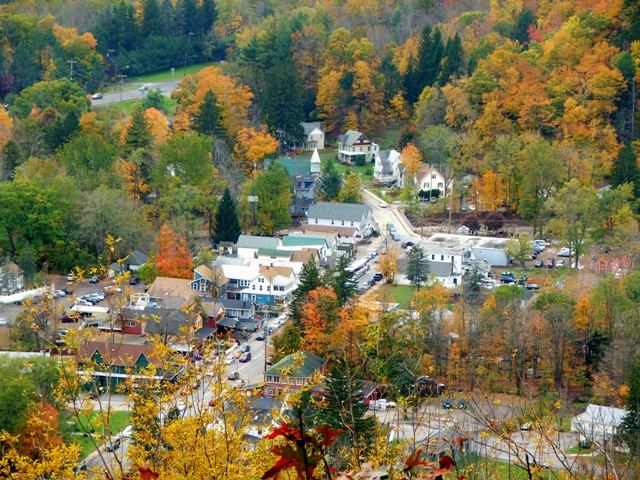 The hamlet of Phoenicia in the town of Shandaken.
Everyone has heard of towns, villages, cities, and neighborhoods, but what is a hamlet? We have a lot of them in Ulster County, and we're not talking about the mopey Shakespearean title character either.
Hamlets are unincorporated areas that are a part of a larger township – and the reason you might not have heard of them is that New York State is one of only two states in the U.S. (the other is Oregon) that has them. Hamlets don't have their own governments – there is no mayor of a hamlet – but they do typically have their own post offices and zip codes. To keep it confusing, when people talk about hamlets, they almost always use the word "town," because some hamlets are clusters of houses and businesses around a main street. But the population of most hamlets is pretty small, which is a big part of the reason why it makes sense for them to be part of a larger township instead of having their own infrastructure.
In Ulster County, there are more than 40 different hamlets, which are part of more than a dozen townships. Not all townships are made up of hamlets, but the towns that have hamlets generally have a bunch of them. When you live in a hamlet you experience both the culture and community of the hamlet, which can be very different than the next one over, and the government, support staff, and planning board of the town.
As an example, Habitat's home base Stone Ridge is a hamlet of Marbletown, along with High Falls, Kripplebush, Lyonsville, Lomontville, Atwood, and North Marbletown. The Marbletown hamlets range from rural hamlets without a corner store or stoplight to main streets with multiple restaurants and historic homes. Hamlet life in upstate New York has a deep history – in Ulster County many of our hamlets date back into the late 1700s and early 1800s and were founded before the towns were a glimmer in anyone's eye and local transportation involved horses.